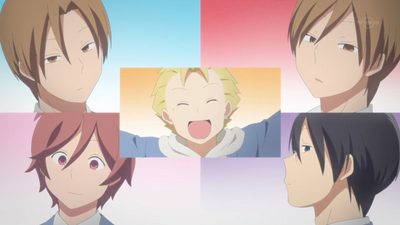 Welcome to the kimi to boku wiki!

A kimi to boku database that anyone can edit! So far we have 73 articles! Contribute to make this wiki better!
kimi to boku

---
Kimi to Boku,(君と僕。?) which means You and I, is a Japanese manga series written and illustrated by Kiichi Hotta. In 2011, it was adapted into an anime television series by J.C. Staff. The story revolves around four teens, the good-looking twins Yuuta and Yuuki Asaba, the effeminate Shun Matsuoka, and the class head Kaname Tsukahara,whom have known each other since kindergarten and seemingly like blood brother. While they are not necessarily good or bad friends, they continue to hang out well into high school. The half-Japanese transfer student Chizuru Tachibana joins the circle of friends. This comedy is about the everyday life of adolescence.There are 26 episode in all (13+13) and the manga has gone up to vol 11!
Who's your favourite character?
Character, Episodes, Manga and songs
Sites related to kimi to boku
These are other sites relating to kimi to boku (if this wasn't enough!), some are offical and some may not, but there worth a look!
Active Admins (If you have any doubt about any article, would like to report vandalism, block a vandal or delete an article, just contact the active admins)
News
kimi to boku season 2 has come to an end :( but please don't forget the manga is still ongoing as it's just as good) there are no talks of a ova or a season 3.
Random Funny moment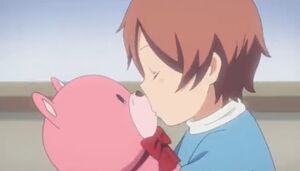 Shun :I don't want to mess up my life's one and only kiss
Kimi to boku season 1 opening
Kimi to boku season 2 opening
Which season do you like best!
We need your help
Welcome to kimi to boku wiki, we need your help to make kimi to boku wiki bigger and better! you can help by
Editing Characters
Add Characters that have not been added
Editing Episodes
Editing Manga pages
Adding comments
Go on share like us on facebook, or tweet
Adding kimi to boku music with lyrics
Every little helps! Thank you :)